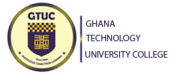 Ghana Technology University College
Home ›
Ghana ›
Ghana Technology University College
History
The College has its roots in Ghana Telecom's flagship Training Centre, which was one of a kind in West Africa. It was first used as a Royal Air Force (RAF) Training School during the Second World War and subsequently handed to Cable and Wireless to train Telecommunications Technicians for British West African Countries ( i.e., Ghana, Nigeria, Sierra Leone, and The Gambia).
The Training Centre progressed rapidly through deregulation and privatization to become the main source of teaching and certification in Telecommunications Engineering for Ghana Telecom employees as well as other institutions in Ghana and West Africa.
In 2005, Ghana Telecom's management upgraded the infrastructure and equipment to modern standards in preparation for converting the training centre into a university for telecommunication and multimedia engineering & information technology.
Mission
GTUC is a centre for academic excellence providing an enabling environment for quality teaching and learning, research, intellectual creativity, innovation and service to the community. The University will promote relevant cutting-edge technology, leadership development and an enterprise culture to deliver value to Ghana and the world.
Research
In its role as a research university, GTUC fosters the discovery and study of critical issues in areas of academic and professional study. Rigorous assessments and reviews are central to advancing its research programmes and creative activities, as our participation and leadership in national and international academic disciplines.
Public Engagement
In its role as a contributor to public life, GTUC fosters reflection on the values and goals of society. The university augments its own programmes and enriches the larger community with its libraries, expertise, facilities and other activities.
Faculty, staff, and students of the university are encouraged to contribute time and expertise to community and professional service.
Vision
GTUC aspires to be a world-class University promoting scholarship innovative research, cutting-edge technology, entrepreneurship and developing outstanding students and staff for national and global development.
Core Values
GTUC is built on a core commitment to students, learning, service and respect for all manner of persons. We are proud of our values and long-term commitment to:
Excellence
Student-Centered
Academic Freedom
Innovation
Integrity
Locations
Accra
Address
PMB 100, Accra-North
Accra
,
Greater Accra Region
,
Ghana