MBA in
Professional MBA Digital Transformation & Data Science
WU Executive Academy - Vienna University of Economics and Business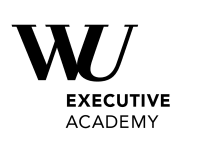 Introduction
Transform businesses with digital innovation
No matter where you turn, business is being radically transformed by digitization. New, lucrative opportunities await initiators while the currently-leading company is actually being disrupted by a newcomer.
Whether you see this as an opportunity or a challenge, you can face this situation head-on with the MBA Digital Transformation & Data Science. Take advantage of the latest MBA in the WU Executive Academy's portfolio, pick up the tools and strategies needed to master digital challenges, and transform your business.
Brand-new topics
These days, digitization, disruption, and big data rank high on the corporate agenda everywhere because the rapid transformation has an impact on all industries. Designed to equip you with the fundamentals of both these technologies and a range of management tools, this specialized MBA will be your link between management knowledge and digitization processes. The approach is very hands-on so you will be able to connect what you learn to the context of the increasingly digitized world.
High flexibility and multiple new networks
One advantage of the program is its high degree of flexibility as far as learning intensity and program duration are concerned: In addition to acquiring an understanding of general management topics (Business Core), it will be possible to complete parts of the specialization in advance. For example, those who want to take Data Science modules at the beginning, or have already done so in a short program at the WU Executive Academy, will now be able to use them for the entire MBA including the business core. This structure multiplies the available networking opportunities: you will not only meet colleagues from the MBA but can also network with other experts in the field. These many different contacts are extremely valuable from a career perspective.
Curriculum
Content
This MBA program entails 4 central parts:
a "Business Core" which includes topics like:

Financial Management
Marketing Management
Managing People & Organizations
Entrepreneurship & Innovation, etc.
"Data Science" (a 12-day program) which includes topics like:

Data Wrangling
Data Analytics with R
Legal & ethical foundations as well as data security
Big data methods, algorithms and data distribution, etc.
"Digital Transformation" (4 days) which includes topics like:

Economics of Information Goods
Digital Transformation of Traditional Organizations
Current Trends in the Startup & Innovation World
Idea Generation & Value Proposition Design, etc.
and one elective:

Blockchain Transforming Business
Organizational Design
Data Governance
You can influence the content of your MBA by choosing from a variety of offers; some modules have a strategy-driven focus, while others are more technical in nature. Current examples include "Blockchain Transforming Business", "Organizational Design", or "Data Governance".
In addition, you can choose the timing of several of your modules and thereby influence the intensity and duration of your MBA.
Find more information on our website.
Rankings
The Financial Times Executive MBA Ranking and various other rankings consistently rank us among the best universities in Europe.
Moreover, we are triple accredited. Less than 1% of business schools in the world have quality levels recognized by the three largest business school accreditation organizations: AMBA (Association of MBAs), AACSB (Association to Advance Collegiate Schools of Business) and EQUIS (European Quality Improvement System) by the European Foundation of Management.
To see current achievements of the WU Executive Academy please go to: https://executiveacademy.at/en/university/accreditation-rankings

Program Outcome
Immediately applicable expertise & key tools
This MBA will provide you with immediately applicable expertise and key tools. This enables you to have better strategic foresight and to implement what you know effectively when returning to your job.
Scholarships and Funding
Scholarships
The WU Executive Academy offers a wide range of partial scholarships for applicants for whom financing the tuition fee is a challenge, regardless of their residence or citizenship. Moreover, we have been supporting women in their professional development for many years, thus we additionally offer a "Female Leaders" scholarship that is open to all female applicants.
Scholarships are awarded on a case-by-case basis. The admission committee decides whether and to what extent a scholarship will be granted by evaluating:
Submitted application documents
Performance in the admission interview
Potential contribution to peer-learning in class
Financial situation (income, costs for logistics, etc.)
Leadership potential
Analytical skills
Ability to work in a team
Career goals and motivation
Personal circumstances
You can find detailed information about all different scholarships, including the maximum amount, on our website.
In addition, there are further financing options possible, including employer sponsorship, payments by installments, or early bird reductions. You can find an overview of all opportunities here.
Ideal Students
Target group
Data analysts aspiring to a management position
Experts from the technical field, who want to deepen their leadership skills and gain a good understanding of the general management topics.
Successful managers who see their future in the field of digitization and data science and who want to acquire the necessary expertise.
Executives who want to deepen and update their knowledge through an MBA program.
Take a look at our class profile.