MBA with specialisation in Data Analytics
Wittenborg University of Applied Sciences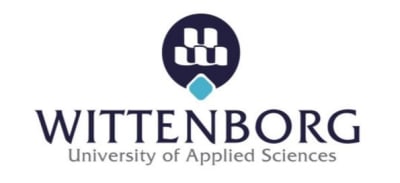 Key Information
---
Campus location
Amsterdam, Netherlands
Tuition fees
EUR 18,300 / per course
Application deadline
Request info
Earliest start date
12 Feb 2024
Introduction
As data-driven technologies increasingly influence business decision making, a question that has developed is whether future managers should pursue a master's degree in Business Administration or Data Analytics. This programme is unique as it covers both areas of study, offering you the ability to develop your knowledge and capability to link data, business processes and decision making.
The MBA in Data Analytics is one of the specialisations in our Master of Business Administration programme offered at Wittenborg University of Applied Sciences to full-time and part time students, with a 'tech' background, from the Netherlands and around the world.
Students will develop expertise in business and the administration and management of data analytics so that you can work with big data and combine data science with business management. The industry is always evolving, so alongside our international team of lecturers, we partner with industry experts to ensure that the content of the programme meets the needs of today's dynamic and competitive business environment.
We welcome students from science or tech academic backgrounds with a minimum of 3-years' professional work experience to apply for this programme. Having a background in business or management is not a prerequisite for admission. The programme is modular in nature, with the first semester designed to equip you with the foundations in management, supplying the tools you require to specialise further in the MBA in Data Analytics programme.
6 Intake Moments a Year
All Bachelor and Master programmes at Wittenborg have 6 intake moments a year. Students are also able to graduate 6 times a year. Graduation Ceremonies are held twice a year in the Winter and in the Summer.
Scholarships and Funding
Wittenborg University of Applied Sciences is committed to ensuring that education is accessible to all, and offers a number of scholarships to both European and International Students. Wittenborg is committed to supporting excellent students, and offers those who achieve at Wittenborg access to Wittenborg Funds. Find out what fund you can apply for, and how to apply, at 'Wittenborg Funds'. All scholarships must be applied for during the admissions stage and before registration into the programme.
Note: Dutch and EU Students can apply for a Student Loan
Holland Scholarship
Wittenborg University of Applied Sciences is pleased to be able to offer: Ten (20) €5,000 'Holland Scholarships' available to study a bachelor's or master's degree at Wittenborg. Find out how to apply for the 'Holland Scholarships'
Orange Tulip Scholarships
Wittenborg University of Applied Sciences is pleased to be able to offer the Orange Tulip Scholarship (OTS) Scholarship Fund to students from:
China - Orange Tulip Scholarship China
Indonesia - Orange Tulip Scholarship Indonesia
Russia - Orange Tulip Scholarship Russia
Mexico - Orange Tulip Scholarship Mexico
Brazil - Orange Tulip Scholarship Brazil
Korea - Orange Tulip Scholarship Korea
Vietnam - Orange Tulip Scholarship Vietnam
MBA Scholarships
Wittenborg University of Applied Sciences provides 10 MBA Scholarships of €5,000 each for the Master of Business Administration (MBA) programme in all specialisations. Find out how to apply for MBA Scholarships
Curriculum
The Wittenborg MBA is delivered in a block format, with 2 modules being covered every 6 weeks. The classes are inter-disciplinary - you study shared modules in semester 1 with MBA students from different business specialisations. Due to the rolling entry (6 times a year) groups are dynamic, extremely international and diverse.
The modules are delivered intensively over consecutive days in the so-called 'block format', which means that each module has 6 days of teaching split into two blocks of 3 days. Teaching methods include group work, case studies, presentations, and live projects. The course is delivered through a variety of approaches including lectures, presentations, tutorials and case studies, with an emphasis on interactive learning. Each module is taught by two lecturers, often a full time Wittenborg lecturer and a quest lecturer from a partner university. Modules include regular guest speakers from industry.
Areas of study
Management subjects address key issues of strategy, marketing, operations, human resources, accounting and financial planning, studied in parallel with deeper international corporate finance and investment modules. Options include consultancy and multi-unit management. Students acquire research skills, which they can apply to academic or industrial projects.
Syllabus
Semester 1
Management Accounting & Finance
Marketing Management
Human Resource Management
Operations Management
International Management
Information Management
Semester 2
Artificial Intelligence in Business
Business Statistics
Data Analytics & Visualisation
Strategic Management
Data Management Ethics
Throughout the programme: Research Methods, 3 Project weeks, leading to the Final Project
Career Opportunities
Some popular career paths for MBA graduates with a specialisation in Data Analytics include:
Business Intelligence Analyst
IT Systems Analyst
Big Data Engineer
Data Analytics Consultant
Digital Marketing Manager
Data Scientist
Healthcare Data Analyst
MBA enhancing your career!
MBA graduates are often fast-tracked into senior management positions and this MBA programme has been designed for those who wish to pursue senior management positions or as preparation for further study in business, such as a DBA or PhD.
There are vast opportunities in today's market for graduates in data analytics. This is an area of industry where there is a growing demand but a shortage of qualified skilled labour. This is why skilled professionals in this field are some of the most sought-after talents in the current business environment. As more businesses adopt a data-based, information-driven approach at all levels of the business process, the need for such services will only increase. The unique nature of programmes like this means that the skillsets and competencies developed can be applied in any industry and across all domains.
The MBA will further the careers of:
Dutch or other EU graduates who are working in an organisation, managing people or processes, and looking to improve their career opportunities within their current employment positions. These students are supported by their employers and can study the programme part-time.
Dutch, or other EU graduates who have been working in an organisation, managing people or processes and are looking for a full-time MBA programme that will increase their employability chances in an international market.
International graduates in the Netherlands who have completed a bachelor's degree and have worked in an organisation with responsibility managing people or processes, and are looking to improve their career opportunities, either at their current employer or in the search for a new opportunity.
International students worldwide, from business or non-business fields, with a proven number of years managing people or processes within an organisation. These students are looking for an English-taught, internationally orientated MBA programme that can allow them to improve their career prospects in the job market either at home or in the Netherlands, either at their current employer or at a new organisation, and possibly to continue their studies at a higher level.