MBA in
Waseda-Nanyang Double MBA Program
Waseda Business School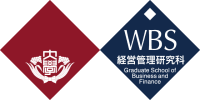 Introduction
Program Outline
The Waseda-Nanyang Double MBA Program is an accelerated 14-month program that combines the strengths of two of the top business schools in Asia. It has a dual focus on global business and management of technology and is the only dual-degree MBA program in the world that starts in Singapore and ends in Tokyo.
Upon the successful completion of the program, you will obtain two MBA degrees – Master of Business Administration, Nanyang Technological University, and Master of Business Administration, Waseda University.
The required core courses are mainly offered through Nanyang Business School, while elective courses are mainly offered through Waseda Business School. The equivalent of a seminar course is offered during the semester in Tokyo during which a required Project Paper is written.
Each batch has approximately 10-15 students, allowing for close interaction among students and professors.
Application starts with the Admissions Office of NTU so please contact to NTU if you have any further inquiries about the application procedure.
Brochure