1-year MBA in
Sustainable Innovation MBA
University of Vermont MBA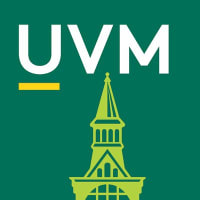 Scholarships
Explore scholarship opportunities to help fund your studies
Introduction
Ranked #1 Green MBA by the Princeton Review, the University of Vermont's one-year Sustainable Innovation MBA was designed from the ground up to challenge the traditional MBA. We enlisted some of the greatest leaders in the field to design and shape our program.
The result? We've fundamentally reinvented business education and the MBA degree to address directly the core challenges we face-- environment, ethics, poverty, and inequality—through the lens of enterprise and entrepreneurship. In just twelve months, you receive an accredited MBA degree, which includes not only the basic MBA toolkit, but also the knowledge, skills, and capabilities to transform today's business and create tomorrow's truly inclusive and sustainable enterprises.
Why The Sustainable Innovation MBA?
The mission of The Sustainable Innovation MBA program at the University of Vermont is to prepare and train individuals to create profitable and sustainable business opportunities in a world undergoing transformational change. The Sustainable Innovation MBA aims to develop the next generation of leaders who will build, disrupt, innovate, and reinvent sustainable business and enterprises in a world that demands it.
As a student in The Sustainable Innovation MBA program, you will benefit from:
An accelerated one-year program
Designed to give you the full MBA toolkit within 12 months so that you can get back to making an impact.
Vermont's unique spirit of entrepreneurship
Learn from and develop relationships with leaders from a master class of sustainable, innovative enterprises, including Ben & Jerry's, Burton Snowboards, Keurig Dr. Pepper, and Seventh Generation.
Global exposure and hands-on experience
Do meaningful, high-impact work with global partners leading the charge in sustainable business.
Cutting-edge thinking and practice
You'll be interacting with some of the leading thinkers and doers in the field of sustainable enterprise, both here in Vermont and from around the world through our Changemaker Network.
Multi-disciplinary approach
We've designed a unique curriculum delivered by faculty from our School of Business, as well as the Department of Community Development and Applied Economics, nationally ranked Rubenstein School of Natural Resources, the Gund Institute for Environment, UVM Innovations, and Vermont Law School.
The Sustainable Innovation MBA Curriculum
Classroom-based learning is critical and The Sustainable Innovation MBA curriculum is unique in its design and focus. However, real-world exposure and experience are also crucial to the development of the personal perspective and skills needed to be an effective sustainable entrepreneur. Accordingly, The Sustainable Innovation MBA integrates several elements that provide practical, hands-on experience and connections.
Modules and Courses
The program is structured in 4 modules of 8 weeks each. Each module is made of a series of short, intense courses. The number of courses per module varies. The students in each cohort learn and grow together as a cohesive group, and forming life long professional and personal relationships.
Every course addresses issues of sustainability. Business cases are shared across courses and these business cases focus on how certain corporations are building a more inclusive, resilient, and sustainable economy. The curriculum will discuss in depth how the global challenges associated with sustainability, when viewed through a business lens, can help identify managerial strategies and practices to achieve sustainable economic growth while simultaneously driving shareholder value.
Sustainable finance and impact investing track
The financial sector is being reshaped by the ascendance of passive investing, regulatory reform and technological innovation. These forces are reducing opportunities in many of the traditional career paths for recent graduates with an interest in investment analysis and portfolio management. At the same time, Environment-Social-Governance (ESG) and Impact investing is gaining traction as financial institutions and wealth managers are responding to the growing demand for investment vehicles with positive societal impact. While the major financial and investment companies are developing their capabilities to offer investments and portfolio strategies consistent with attaining both financial and societal goals, the number of practitioners with a deep understanding of both the finance and the sustainability/Impact criteria is limited. The Sustainable Finance and Impact Investing (SFII) track will address this need by producing graduates prepared to create and manage investments and portfolios that satisfy both financial and societal objectives.
The SFII is designed for those with expertise in finance who wish to gain expertise in ESG-Impact Investing while earning The Sustainable Innovation MBA. Applicants to this track are expected to first meet the admission requirements to The Sustainable Innovation MBA program and should have expertise in finance gained through an MS degree in finance, the completion (or near completion) of the CFA process, or significant professional experience.
The Sustainable Innovation MBA Curriculum
Summer Preparation (self-paced, online)
Financial Accounting for Sustainable Enterprises
Module 1: Foundations of Management
Business Strategy for a Sustainable World - Sustainable Brand Marketing - Finance for Innovators I - World Challenges - Business Economics - Teamwork for Sustained Innovation - Entrepreneurial Family Business - Leadership Seminar
Module 2: Building A Sustainable Enterprise
Leading for Sustainable Innovation - Crafting the Entrepreneurial Business Model - From CSR to Creating Sustainable Shared Value - Marketing Decision Making Under Uncertainty - Finance for Innovators II - Sustainability Toolkit I - Leadership Seminar
Practicum Planning
Initial Framing, List of Projects Ideas/Opportunities
Module 3: Growing A Sustainable Enterprise
Sustainable Operations and Green Supply Chains - Business Sustainability and Public Policy - Financing a Sustainable Venture - Accounting for a Sustainable Enterprise - Data Analytics for Sustainable Businesses - Driving Sustainable Change I - Leadership Seminar
Module 4: Focusing on Sustainability
Driving Sustainable Change II - Systems Tools for Sustainability - Driving Innovation from the Base of the Pyramid - Innovation Strategy: From Idea to Market - Sustainable Energy Technology and Policy - Sustainability Toolkit II - Leadership Seminar
Practicum: Sustainable Entrepreneurship in Action
Practicum Pitch, Summer Project, & Final Report and Presentation to Corporate Sponsor
Admissions Process
Are you content with just "business as usual" or are you interested in harnessing the power of business and markets to change the world?
We're looking for people like you - the disrupters, innovators and visionary entrepreneurs. Leaders who think differently and seek a better way to do business, and who are ready to embark on a business education that will prepare them to live differently, lead differently, and profit differently. Give us a year. Together we'll reinvent the way we do business.
The Sustainable Innovation MBA program is an intensive 1-year accelerated degree, starting at the end of August. Application to the program is on a rolling basis, decision deadlines are below. Note that some scholarships have different deadlines.
| | |
| --- | --- |
| Early Mover | January 15 |
| Regular Admission | April 15 |
| Final Admission | June 15 |