MBA in
Master's Degree in Business Administration and Management
University of Oviedo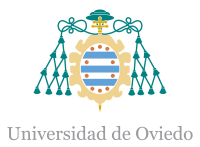 Introduction
Access requirements
Any person who has an official Spanish university degree, or a degree issued by a higher education institution of the EHEA that empowers the country issuing the degree to access official master's degrees. Students with a foreign qualification (external to the EESS) can also take this Master's degree, which is homologated or not approved, provided that the level of training is equivalent to the degree titles and that it authorizes the issuing country to access official master's degrees.
Aimed preferably at Graduates, Architects, Senior Engineers, Graduates or Graduates with prior academic training that allows them to assimilate specific knowledge in the different subjects taught. Professional experience is not necessary, since one of the objectives of MADE is to provide University Graduates with a specialization in business management that facilitates their insertion into the labor market.
Likewise, and although it is not a mandatory requirement for access to the Master, it is considered convenient to enter the program having basic knowledge of English, at least at the level of reading technical texts, since part of the support material used in classes is in this language.
Professional outings
The interest of the proposed postgraduate program is based on its usefulness to increase the professional capacities of graduates in different specialties, with the aim of complementing their training in the field of business management, providing them with the human capital and skills necessary to decision-making in the business and institutional sphere in an increasingly complex and dynamic environment, in order to facilitate both the job search and internal promotion in the company.
In addition, MADE allows continuing with doctoral studies in the field of Business Administration for those students interested in completing their doctoral thesis. In this sense, they can continue their studies in the Doctorate Program in Business Administration at the University of Oviedo
Curriculum
The proposed study plan has a total of 90 ECTS credits, distributed in two academic courses, the first of 60 ECTS credits and the second of 30 ECTS credits, which include all the theoretical and practical training that the student must acquire, including defense public of a Master's Thesis.
The compulsory credits include 11 subjects, 10 of 4 ECTS credits and 1 of 5 ECTS credits, which all students must take and which include subjects from the following areas of knowledge: Business Organization, Financial Economics and Accounting and Marketing and Research of Markets Regarding the optional subjects, the student must choose 5 among the 10 offered.
During the second year they will carry out the internship in a company for two months and the Master's Thesis.