About University Canada West
University Canada West (UCW) is an innovative business and technology-oriented, teaching-focused institution in Vancouver, Canada, offering undergraduate and graduate degrees for domestic and international students.
The University's excellent education, professional practice and close connections within the business and technology community transform students into leadership-ready graduates.
What makes UCW different?
95% of UCW MBA students are working or have a job lined up within one year of graduating.
Business and technology-focused university with an emphasis on practical experience.
Two easily accessible campuses in downtown Vancouver. Downtown locations provide you with unparalleled access to a network of prospective employers.
ACBSP and NCMA-accredited MBA and Bachelor of Commerce programs.
Teaching-intensive institution with qualified, expert faculty with real industry experience.
Dynamic and practical learning environment.
11,000+ Students from more than 110 different countries and plenty of networking opportunities.
Personalized academic planning and advising services.
Student-centered learning environment, additional support and free workshops in various areas, including writing, statistics and more.
Fully engaged student services with student-centered activities and events.
Experienced Career Development specialists to help you land your dream job.
Flexible study options - study on campus or online.
Flexible schedules, offering courses in the evenings and on weekends.
Student well-being first with 24/7 mental health support available for students.
So are you ready to take your career to the next level?
The Vancouver factor
"Vancouver is Manhattan with mountains." - The New York Times.
When you study with UCW in Vancouver, you will find out why this beautiful destination was voted the third-best city to live in by The Economist.
Vancouver's welcoming and cosmopolitan lifestyle awaits you here with endless things to do and enjoy. The city of Vancouver offers a wealth of study and work opportunities and you will be surrounded by stunning natural beauty. This is truly the ultimate place to be.
With a rich history across different sectors, Vancouver has made its mark on the world economy and continues to make a big impact on traditional and modern industries.
Come on board for:
Business and technology-oriented, teaching-intensive learning
World-class learning facilities in downtown Vancouver
Career-focused education and expert faculty
Excellent service and support from faculty and staff
Opportunities to fast-track your education and finish programs faster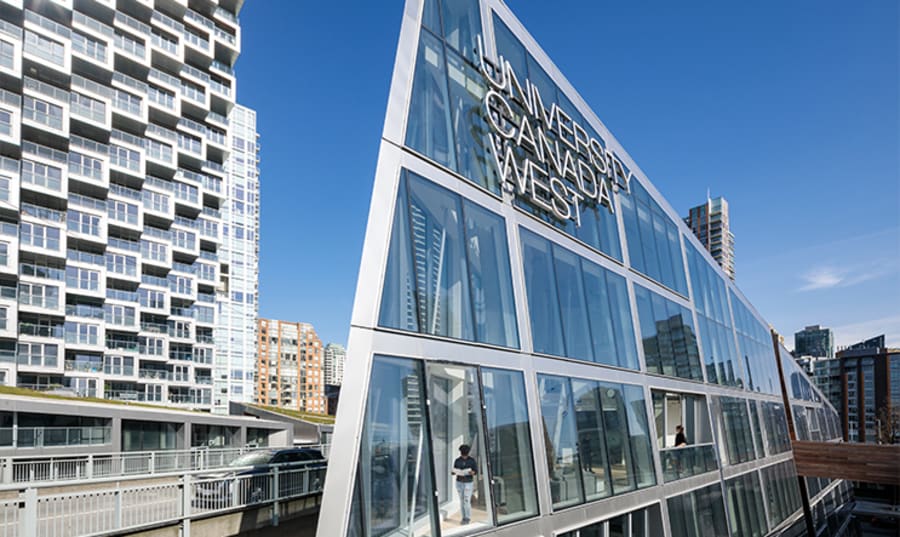 UCW's Campuses
UCW has two easily accessible campuses in downtown Vancouver: The West Pender and the Vancouver House campuses.
The West Pender Campus in the historic London Building is only steps away from public transit, including the Waterfront SkyTrain Station, bus routes and the SeaBus terminal. This vibrant and lively neighbourhood is full of restaurants, stores, entertainment options, shopping centres and gym facilities.
The Vancouver House Campus is located in one of the highest-profile developments in the city's recent history. This campus includes more than 90,000 square feet of space in the iconic Vancouver House Development, a globally recognized project designed by architect Bjarke Ingels of BIG.
Many of the world's biggest companies have offices within walking distance of our downtown campuses, providing you with unparalleled access to a network of prospective employers.
Vancouver has been named the third most liveable city in the world by The Economist and that is evident as you stroll through the bustling scenic city.
Campus Locations
West Pender Campus - 626 West Pender Street, Suite 100, V6B 1V9, Vancouver
Vancouver House Campus - 1461 Granville Street, V6Z 0E5, Vancouver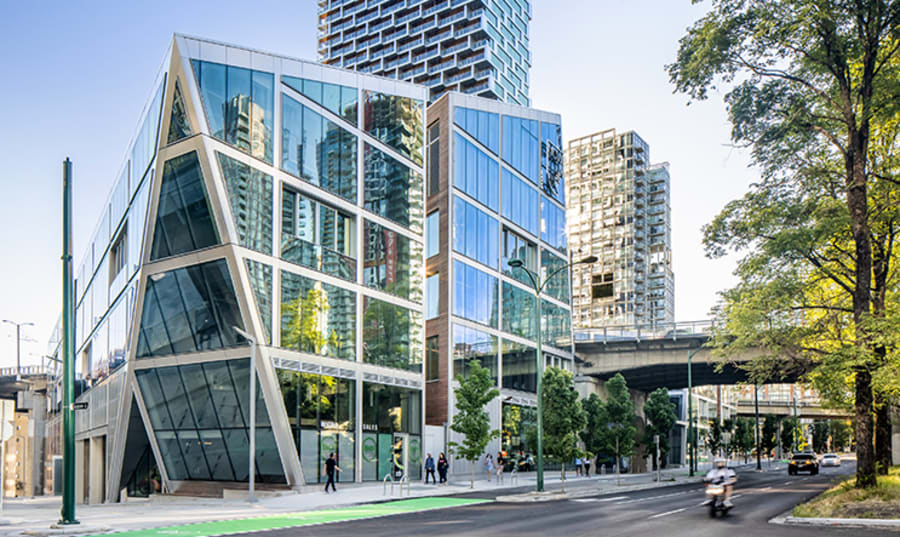 Online Learning
University Canada West's online programs are ideal for those looking to upskill without compromising their busy schedules. This flexible learning method allows you to fit studying around your work and family commitments. You will benefit from access to a range of high-quality online learning resources, such as video lectures, online forums and one-on-one time with your professors.
UCW currently offers the following online programs:
Online Master of Business Administration
Online Bachelor of Commerce
Online Bachelor of Arts in Business Communication
Benefits of studying online
Studying online has a variety of benefits, including the freedom to fit coursework around your daily commitments. With access to HD video lectures and course materials, you will not feel any less prepared than students studying on campus.
Online study has become increasingly popular as it allows you to obtain an academic qualification and significantly enhance your employability without putting your life or job on hold.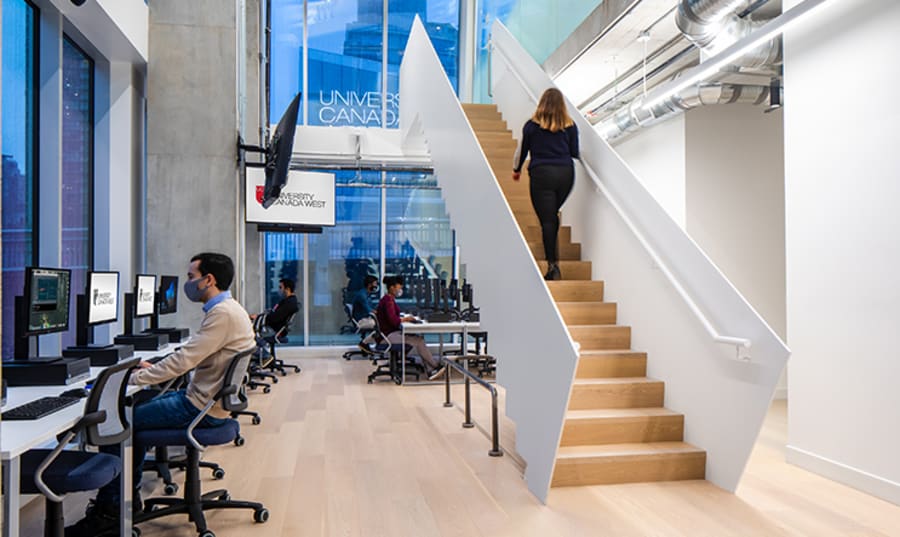 Our students are our Brand Ambassadors
UCW is a university with a clear vision – to put its students at the heart of everything. From the first moment you step on campus to your graduation, every experience UCW offers is tailored to give you the best possible start to your career.
UCW's Career Development Center
The UCW Career Development Centre (CDC) facilitates engaging partnerships with students and alumni as they transition from higher education into the workforce environment and beyond. Through these partnerships, the Career Development Centre bridges the gap between employers' needs and employment opportunities for students and alumni.
The Career Development Centre includes resources and workshops in group and one-on-one settings on the following topics:
Resumés and cover letters
Interviewing skills
Job search techniques
Networking and volunteer opportunities
Career advising
Career exploration
Personal branding on social media/LinkedIn
Job fair preparation
Career panels
Accessing the hidden job market
Internship resources
Career treks
Career fairs
And more
UCW Student Affairs & services
New students will get to know the UCW Student Affairs & Services department quickly during New Student Orientation (NSO). NSO is an opportunity for new students to learn more about the University, including its campuses, services, the MyUCW Student Portal, course selection and registration and more.
UCW students can access the following student services and more:
Writing and numeracy coaches
Academic advising
Campus information sessions
Workshops and seminars
Student Life and Student Committee events, such as holiday parties, end-of-term socials, movie nights and much more.
To ensure that your experience at University Canada West is enjoyable, should you encounter any challenges, please be advised that a solution is often just a click or call away.
English Language Requirements
English is the language of instruction at University Canada West and all applicants are required to provide proof of their academic English language proficiency through one of the following methods:
English Language Instruction
English Language Test
English as a Second Language (ESL) Program
Graduate program:
Master of Business Administration (MBA)
UnderGraduate program:
Bachelor of Commerce (BCom)
Bachelor of Arts in Business Communication (BABC)
Associate of Arts (AA)
Preparatory program:
MBA Foundation (MBAF)
University Access Program (UAP)