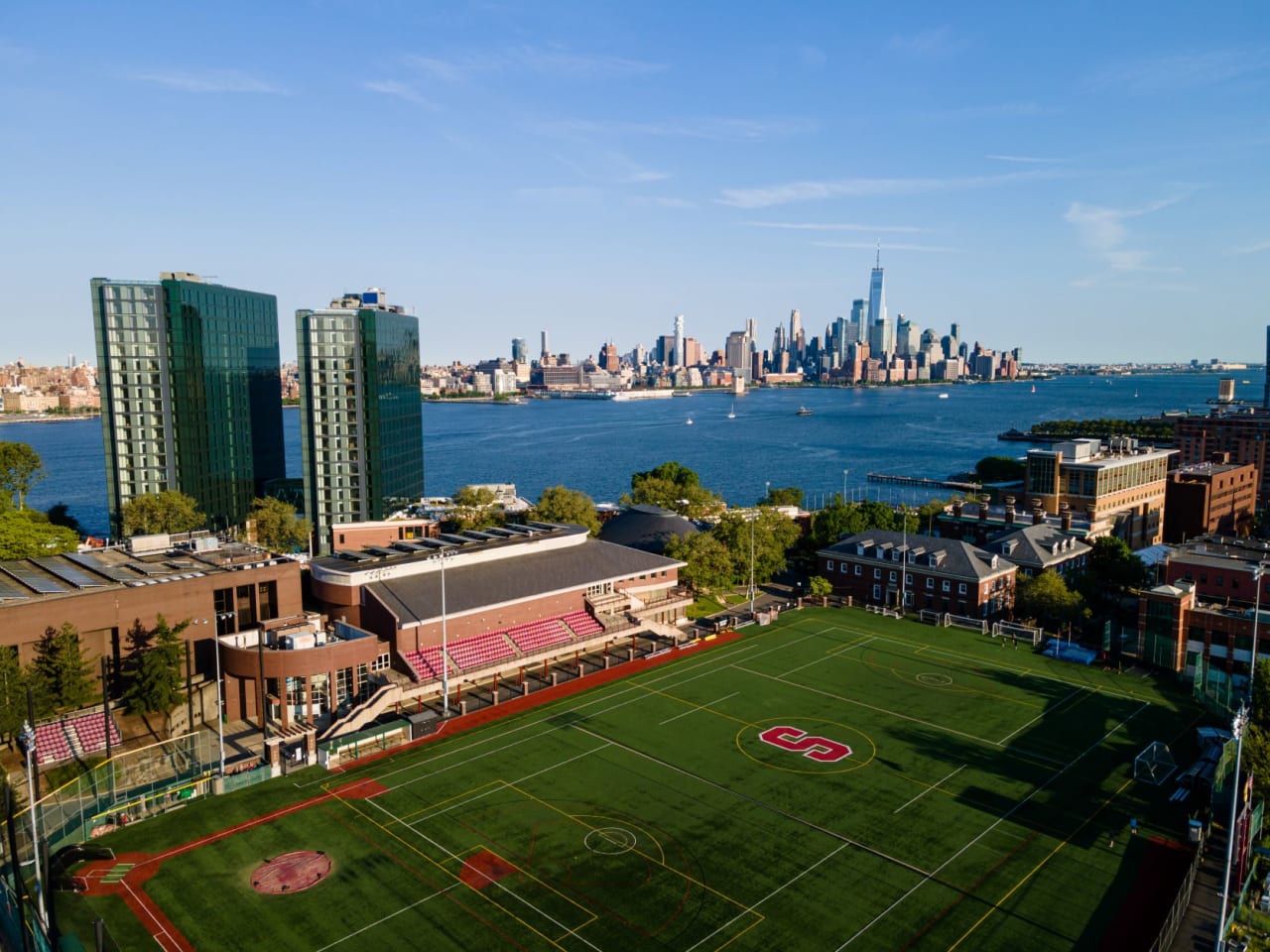 Analytics MBA
Stevens Institute of Technology - Graduate Studies

Key Information
---
Campus location
Hoboken, USA
Study format
Distance Learning, On-Campus
Tuition fees
USD 19,704 / per semester *
Application deadline
Request info
Earliest start date
Request info
* Full-time Tuition Rate 9-12 credits. Part-time less than 9 credits: $1,776/credit. Fall 2022 & Spring 2023
Introduction
In a business world that prizes technology, data, and analytics, the traditional management toolkit is in danger of becoming outdated.
So we created a new kind of MBA.
The Analytics MBA at Stevens is a STEM program for recent college graduates who have studied a technical discipline, have limited professional experience, and want to quickly earn an advanced degree to compete for exciting jobs at the world's most prestigious companies — where, increasingly, even early-career work requires a master's.
Here, the faculty presents traditional themes like strategy, marketing, finance, and accounting through an analytical, problem-solving lens, with an emphasis on applying data-intensive methods to industry challenges. And the program's structure encourages your personal and professional development through career support, mentorship, and business immersion.
Analytics MBA Program Highlights
Applied Emphasis
The Analytics MBA emphasizes project-based learning and applied sciences to ensure your comfort in demonstrating leadership skills at work after graduation. Cross-disciplinary courses will nurture both your technical and business skills, giving you a holistic view of the enterprise.
Location Advantage
Stevens' proximity to New York creates endless opportunities for companies to meet our Analytics MBA students through guest lectures, seminars, class projects, and networking sessions. Employers such as Johnson & Johnson, Goldman Sachs, Verizon, and Boeing recognize Stevens students as being bright, tech-savvy, valuable professionals whose education prepares them to immediately take on high-level assignments.
In Good Company
Analytics MBA graduate students are taught by faculty who've started their own businesses, led enterprise-scale projects, and pioneered new ways of thinking about technology's role in getting the job done. You'll also be matched with an industry mentor who will provide coaching and guidance during your studies and beyond.
Curriculum
Capstone experience
No graduate business education is complete without an opportunity to apply what you've learned on a project of consequence. At Stevens, that takes many forms — a consulting assignment with an industry partner, a research project that addresses an industry need, even the chance to nurture your own entrepreneurial venture — and is customized for you, your education, and your career aspirations.
Curriculum
The Analytics MBA at Stevens is structured around three areas of greatest need for the leaders of tomorrow's technology-driven organizations, who must be able to speak the language of business, understand how to apply new innovations within business units and across the enterprise, and interpret data to identify trends and make strategic recommendations. Classes give you a broad set of skills that are applicable in any industry.
The curriculum is further enhanced by intensive mentorship and leadership training, ensuring students graduate as well-rounded professionals who understand how the technical and specialized aspects of the company serve as drivers for future growth.
Prerequisites
The three prerequisite courses to the Analytics MBA are designed to provide a basic foundation in management principles to students from non-business backgrounds. Students may be exempt from these courses with relevant work history or an undergraduate business degree. The three courses can be taken prior to the start of classes.
FIN 523 Financial Management
FIN 500 Financial and Managerial Accounting
MGT 506 Economics for Managers
Language of business
One of the greatest points of frustration for technical employees is an inability to influence decision-making, as they are unable to translate their findings in ways that resonate with the C-suite. Courses in this block go beyond the basics to give you thorough command of how to understand scientific and technical advances from the viewpoint of a manager who must carefully deploy limited resources to ensure the pursuit of truly innovative developments.
MGT 641 Marketing Management
MGT 663 Discovering & Exploiting Entrepreneurial Opportunities
FIN 638 Corporate Finance
MGT 699 Strategic Management
Leadership and innovation
Courses in this block are designed to work in tandem with the curricular thread of personal development, nurturing aspiring leaders to think critically about problems and creatively about resources in order to attack corporate missions with fearlessness.
MGT 612 Leader Development
EMT 695 Leading Creative Collaboration
EMT 696 Human-Centered Design Thinking
MIS 714 Service Innovation
Analytical thinking
Most technical professionals are capable analysts who are most comfortable delving into technical, rather than financial or managerial, challenges. Courses in this block emphasize highly advanced analytics techniques that will teach you the ways successful managers look at and use data in understanding how markets work and making better recommendations to guide the enterprise.
BIA 500 Business Analytics: Data, Models, and Decisions
BIA 652 Multivariate Data Analytics
BIA 656 Advanced Data Analytics and Machine Learning
BIA 610 Applied Analytics
Capstone
After completing the rest of the curriculum, students complete the MGT 809 Industry Capstone Program.
This three-credit course trains graduate students in the application of tools and methods used by management consultants to provide advisory services to clients. Students will work on an industry project with a team of their peers. They will scope and plan the underlying project, develop a statement of work, and design and deliver status update presentations. Students will learn how to facilitate meetings with different groups of stakeholders over the course of the project, manage client expectations, and apply their disciplinary and technical knowledge to the project.
Experiential learning
The Analytics MBA at Stevens is a learning lab that reimagines the skills a graduate business degree needs to provide for aspiring leaders in an increasingly digital economy. Coursework is a critical piece of the MBA experience at Stevens, but just as important are the experiential components that will round out the portfolio of skills you'll use to get the job you most want.
Mentorship opportunities
You'll be matched with a mentor who shares your work interests, giving you an invaluable resource as you begin your career — from interviewing tips to identifying companies where you can excel.
Lab-driven insights
The Stevens focus on applied business analytics is something you can't learn from a textbook. Here, you'll use tools like Mezzanine, Bloomberg, WRDS, and OneTick to think critically about data, collaborate effectively, and create dynamic visualizations.
Entrepreneurial immersion
Agility, vision, iteration — even if you don't plan to start a business, these entrepreneurial traits are greatly valued by hiring managers. The program's entrepreneurship lab will challenge you to create a successful product and seek funding.
Leadership development retreat
Army veterans at West Point will help you reflect on how lessons in leadership can help you overcome physical obstacles and navigate unfamiliar terrain, preparing you to apply these skills at work.
Business immersion
During a week of visits to managers and decision-makers at technology companies, you'll learn about the challenges of managing innovation in the digital economy from companies like Baidu and Microsoft.
Industry Capstone Program
This capstone experience puts you to work with a corporate manager on a real problem. Working under faculty guidance, you'll create a course of action for the company that you'll share in a formal onsite presentation.
Rankings
Rankings
U.S. News & World Report:
Top-100 national university.
No. 57 among national "Most Innovative Schools."
No 16 Business Analytics online
The Princeton Review: No. 13 of "Top 20 Best Career Placement."
The Princeton Review: Among "Best Business Schools."
Georgetown University Center on Education and the Workforce's A First Try at ROI: No. 19 in the for return on investment 40 years after enrollment.
Program Outcome
Program Outcomes
100% employment rate three months after graduation
English Language Requirements
Certify your English proficiency with the Duolingo English Test! The DET is a convenient, fast, and affordable online English test accepted by over 4,000 universities (like this one) around the world.