MBSC aims to develop a new generation of transformative leaders who think creatively and act boldly. The Kingdom needs more job creators and not just job consumers. MBSC is designed to fill this void by creating Entrepreneurs of All Kinds (EAK®). Prince Mohammad Bin Salman College (MBSC) of Business & Entrepreneurship is a new private, higher education institution for both men and women. It has been established through an International partnership between Emaar The Economic City, Babson Global (a wholly-owned subsidiary of Babson College, USA), Lockheed Martin under the umbrella of the Economic Offset Program in the Kingdom of Saudi Arabia and the MISK foundation. MBSC will feature Babson College's unique approach to entrepreneurial education which does not rely on passively listening to classroom lectures but will focus on hands-on experiential learning that is practical and pragmatic. The curriculum uses a set of signature experiential courses that will require students to apply their learning to real-world problems or start new social or business ventures. This type of project-based learning will be supplemented by a network of mentors and advisors. Development of individuals will continue outside class through an intentionally created set of co-curricular experiences that will reinforce and build the entrepreneurial leadership skills of students. MBSC will have a culture that reflects the best of academic traditions in all world-class institutions of higher learning whose hallmarks will include respect for diverse viewpoints, professionalism, integrity, and a constant commitment to excellence both in and out of the classroom. MBSC will provide a world-class education that meets international standards from right here in Saudi Arabia. MBSC has conducted a global search to hire faculty who are both talented teachers and prominent researchers. All the founding faculty has been trained at Babson College. The founding faculty will be supplemented by a group of distinguished visiting faculty from Babson and other world-class colleges and universities. MBSC is committed to abiding by global standards of quality by following standards of both local (NCAA) and global accreditation from bodies such as NEASC and AACSB. Babson College will continue to provide assistance and support to MBSC for the next ten years in its journey to excellence.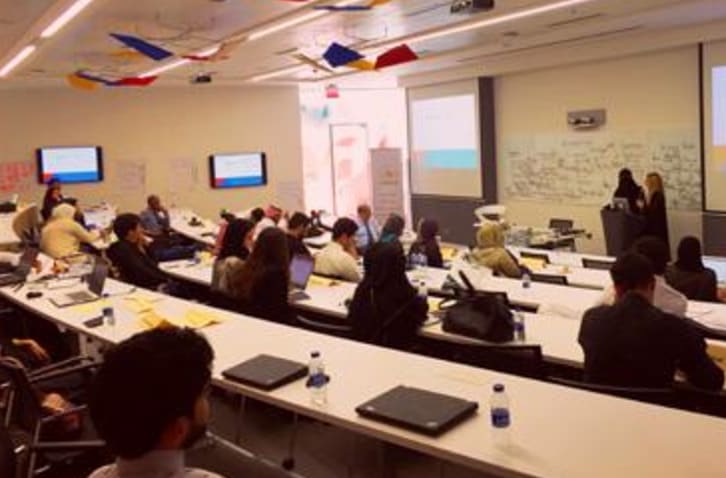 OUR VISION
To be the preeminent institution of higher learning that will unlock entrepreneurial potential in Saudi Arabia to create the jobs of the future and contribute to Saudi Arabia's knowledge economy. This is achieved by becoming an elite, an internationally accredited institution that redefines education in Saudi Arabia and the region. It will be a living, learning lab that creates and launches the next generation of transformative leaders.
OUR MISSION
The mission of the College is to educate entrepreneurial leaders who can recognize and shape opportunities. Graduates of the College will be capable of producing economic and social value wherever they work - as employees in large or small businesses; as leaders of government, social, or philanthropic organizations; as founders of new businesses; or as leaders of family-owned and operated enterprises.
CAMPUS & FACILITIES
The campus has been designed by HDR Inc. one of the world's Top 100 Global Design Firms to create an environment that promotes the delivery of Babson Global's unique curriculum, has space for co-curricular activities and reflects MBSC's commitment to a culture of excellence. Together we hope to inspire creativity and collaboration and help students reach their full potential.