EMBA in
Global Executive MBA
Kedge Business School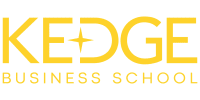 Introduction
Why choose this program?
Flexibility
Designed for busy professionals, our program offers you unique flexibility that allows you to fulfill career commitments, maintain a balanced life, and make your EMBA a truly transformational experience.
Choose the most convenient:
Campuses: Paris, Marseille or Shanghai
Course duration: 18 months to 4 years
Specialization seminars: choose 3
International Seminars: 12 destinations
Adapt throughout your path, campus, major, international seminars (e.g.: postponing a course when necessary).
Return on Investment
There are, of course, many ways to measure ROI:
Within this measure, however, are many other key areas of value that your Kedge MBA will help you to develop.
Skills and knowledge grow quickly and you will be able to immediately apply what you've learned to your daily professional activities. You are thus able to add greater value to your company or personal business almost immediately.
Stronger leadership capabilities, increased confidence, personal and professional benchmarking are all objectives of EMBA's experience.
Value also comes from your increased capacity to find innovative solutions and manage complex change. Gaining business acumen, increasing global connections, having the capacity for self-reflection as well as taking a "step back"; put you at a truly Executive level.
The Kedge Global MBA commits itself fully to helping you achieve in all of these areas to maximize your EMBA investment.
Campus choice
Having chosen the main campus, you can study and join EMBA colleagues on 3 different campuses:
Paris, Marseille, Bordeaux* or Shanghai.
*Bordeaux: for the Wine & Spirits seminar

You meet your classmates on many occasions: during the international seminars, core and workshops modules, business simulations, and 'get together weeks'.
These collaborative occasions offer participants the chance to create a real community.
International dimension
Meeting and working with international participants, interacting with a global Faculty, benefit from international major EMBA partnerships.
"The international visit component of the KEDGE Executive MBA is one of the strongest and most substantial elements of this kind that accreditors have observed while assessing part-time programs." AMBA Global MBA last assessment report.
Not only has KEDGE established a premier campus in China (Shanghai), in partnership with Shanghai Jiao Tong University, and is the only French MBA to be formally recognized by the Chinese Government, but we also enjoy long-term partnerships with several leading international Business Schools.
Graduates can rely on a strong network of over 1,800 Alumni worldwide, including more than a thousand in China.
A strong international brand
KEDGE knows that your MBA is really about what you want to achieve. And we know that a strong international brand is important to you.
Our MBA faculty, alumni and participants, accomplished Executives and thought-leaders, are continuously traveling out onto new parts of the globe. They are unique, innovative, and in-tune with regional practices and diversity and represent the strongest possible ambassadors of our brand.
KEDGE is part of an international network of corporate and academic partners. All of whom are reputable, internationally known, and all share the same standards of excellence.
Having earned triple-crown accreditation, KEDGE has also achieved full recognition by both the French and Chinese Ministries of Education. Our brand is recognized worldwide.
Personal Executive coach
Within the MBA Development Program, up to 18 hours of individual confidential coaching sessions with Executive coaches provide permanent support and accompaniment, enabling you to create the conditions to succeed in your MBA and ensuring that the program serves the development of your career objectives.
Recent comments from MBA graduates about leadership transformation:
- "We are now used to handling complex, unfamiliar issues, requiring us to integrate cross-disciplinary knowledge, lead people and ideas."
- "I gained self-awareness and confidence and improved my abilities to bring out the best in others with stronger leadership skills."
Coaching sessions, regular assessments, personal roadbook, development projects, workshops, etc.
Global Business Network
Sharing your MBA experience with others from the MBA community (alumni, participants), who come from many different sectors, allows your company to extend its network and find new business partners.
Faculty and lecturers are all active in the corporate world and bring with them their connections and experiences.
Your MBA colleagues are international in scope and represent an immense opportunity to explore and connect with other business environments.
International Seminars take you out into new business worlds.
At KEDGE, everyone inspires to be more global.
Lifelong learning
The Lifelong "Refresh Your Skills" Program: A unique advantage among MBA programs, KEDGE BS offers its MBA alumni free access to one MBA course per year for life!
Keep your business acumen up-to-date and maintain your professional network well after graduation.
Benefit for companies
Everyone stands to benefit. The Global EMBA is a genuine investment to:
Enhance skills & capacities: The program provides immediate benefits as participants apply what they have learned from the earliest moments of the program.
Develop potential: Participants acquire a more holistic and global approach to business, as well as an entrepreneurial attitude and a general increase in output and performance.
Reinforce loyalty & motivation: Supporting your manager is a clear means of rewarding, developing, and retaining key talent.
Accomplishing corporate objectives and developing international opportunities.
Ideal Students
Is the Global Executive MBA designed for you?
Yes. If you are an experienced manager and you want to:
Accelerate your career and become a key player in your company.
Develop beyond your technical expertise into a general management position with a cross-functional perspective.
Handle new challenges in other industries, functions, or countries.
Meet new people, share and enrich your vision with other executives and create a solid global network.
You are convinced you to need to:
Become more effective, and develop a strategic vision to create innovative solutions.
Acquire knowledge and competencies in global business, accounting & finance.
Increase your self-confidence and develop your leadership skills.
Now is the time for you to influence the future: enter the next intake of KEDGE EMBA (November & March every year).
The Global Executive MBA offers high potential executives a prestigious Master of Business Administration degree from a top-level, internationally recognized academic institution, in perfect synergy with the business world.
Our objective: equip executives with the competencies, cultural sensitivity, and strategic vision they need to effectively deal with the challenges in today's global economy.
Our vision is to build a unique learning community spanning the continents where you will gain access to our internationally renowned faculty and to a unique global network of 70,000 Alumni (of which 1,800 EMBA alumni worldwide).
Early bird discount of 10% on tuition fees
For all international students applying by February 28th 2023 for June or September intake!
Rankings
Ranked #39 among the Top 100 Executive MBAs worldwide by the 2019 Financial Times, with 3 campuses, 12 core courses, 7 workshops, up to 18 ours of perconal coacing and 3 international seminars, our program is characterized by a highly-individualized learning path, a strong leadership component, and a focus on acquiring a global vision.
An international ranking such as the Financial Times EMBA Ranking for example, places the Kedge Global MBA at:
#1 worldwide for a salary increase and #5 worldwide for Career Progress (3 years after graduation) In fact, 46% of the class experienced increased compensation, greater management responsibility or promotion before graduation.
Scholarships and Funding
Kedge Global EMBA scholarships
Kedge Global EMBA scholarships are awarded to promote diversity in the class, and are based on a combination of demonstrated need and excellence, in 4 different categories:
Diversity
Women leadership
Individual entrepreneurship projects
Individual professional reconversion projects
Emerging economy project
Please contact a program representative for more information and a scholarship application form.
Eligibility
To be eligible for this scholarship, candidates must be:
An admitted applicant to the Global Executive MBA program,
Not be receiving any other source of financing for the program.
Applications are examined by a jury.