MBA in
MBA in Sustainable Management
ISCTE Executive Education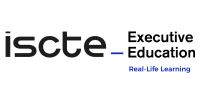 Introduction
Do you want to drive impactful change with a sustainability-guided purpose?
MBA in Sustainable Management program was entirely created from scratch to provide a unique way to combine a strong, scientific, and practical component in the areas of management and sustainability. Aiming to contribute and provide an answer to problems of a varied and increasingly interconnected nature, which are faced by managers, executives, and professionals responsible for making decisions in this context. Aligned with the Sustainable Development Goals, this program aims at contributing to organizations and businesses moving the 2030 Agenda forward.
Why choose the MBA in Sustainable Management?
Responsible Leadership Development
By integrating responsible management principles, this program promotes skills needed in the increasingly complex and evolving global context of the 21st century with growing sustainability concerns.
Holistic and Critical View of Management
Promotes a holistic and critical vision of the integration of sustainability in the way organizations are strategically and operationally managed. To do so, the program is based on solid theoretical and practical background on the core management areas through the lens of sustainability.
Faculty
The members of the staff are highly qualified and experienced academics with relevant experience. Throughout the program, participants have contact with international reference academics and experienced practitioners that will help stimulate participants intellectually for high-level discussions.
International Study-Trip
Includes an experience at the Rennes School of Business with in-class lectures and company visits.
International Environment
International training offered in the field of organizational management in the context of growing sustainability concerns by developing students' interdisciplinary professional skills on sustainability.
Workshops, Seminars, Meetings, and Events
Entails a set of extracurricular workshops, seminars, meetings, and events that promotes a critical sense and a more sustainability-oriented mindset by questioning and exploring values, civic and ethical principles, as well as assumptions that inform personal and professional decision-making.
Networking
Promotes networking opportunities with a diversified group of participants, in terms of academic background, professional experience, roles performed, and industries, as well as lecturers and professionals in the area.
State of the Art
Develops an interdisciplinary approach to management and sustainability knowledge and skills, complemented with the provision of a set of initiatives that promote a sustainability mindset and the capacity for critical reflection on the latest trends.
Ideal Students
For whom?
For professionals coming from any area, that have over 3 years of working experience, including:
Professionals willing to use systemic thinking to address highly complex issues, to share knowledge and learning from peers, and to drive impactful change guided by a purpose towards a more sustainable world.
Managers of companies and organisations already working in the field of sustainability and executives who wish to integrate sustainability into the way organisations are managed at strategic and operational levels looking for a holistic view of sustainability to be prepared for the demanding challenges faced by organizations and the society towards a more sustainable world.
Curriculum
This program is delivered 75 % online and 25% on campus.
Year 1
Sustainable Business Strategy
Data Science for Sustainability
Marketing and Sustainability
Economics and Sustainability
Optional Course 1
Optional Course 2
Human Resource Management and Sustainability
Sustainable Finance
Sustainable operations and logistics
Sustainability Accounting
Optional Course 3
Optional Course 4
Optional Courses (1&2)
Governing for sustainability
Systemic Thinking for Sustainability
Entrepreneurship for Sustainability
Optional Courses (3&4)
Sustainable Business Transformation in the Digital Era
Leadership for Sustainability
Circular Economy
Year 2
Applied Project in Sustainability