MBA in
MBA in International Tourism Management
International Graduate Center - Hochschule Bremen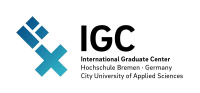 Introduction
The MBA in International Tourism Management program is designed to equip you with the knowledge, skills and real-world experience you need to succeed as a leader in the fast-paced and dynamic world of tourism. With a focus on both theoretical and practical learning, you will gain a deep understanding of the latest trends and best practices in the industry, and learn how to apply them in real-world situations. A strong emphasis on hands-on learning and collaboration gives you the opportunity to work on real-world projects, network with industry professionals and engage with leading experts in the field. You will also develop a range of important skills, such as critical thinking, problem solving, leadership and communication, which will help you succeed in any professional environment.
Your benefits
Interdisciplinary, practice-oriented management studies
English MBA program
Project work with international partners
One-week excursion
International network
Free German language course (optional)
International Student Assistance on campus
Become a leader in a global industry
The tourism industry is a growing and dynamic field, with many opportunities for those with the right skills and knowledge. Graduates of the program are well-positioned to take advantage of these opportunities, and to become leaders in this exciting and rewarding industry. Whether you choose to work for established companies or to pursue your own entrepreneurial ventures, you are well-equipped to succeed and make a positive impact on the industry.
Career Opportunities
Career prospects
As a graduate you can work in management and leadership positions in
large hotels or resorts,
for travel agencies,
tour companies,
cruise lines,
airlines,
convention and visitor bureaus or
national or international organizations focused on tourism.
You can also work as a destination manager developing and promoting tourism in a particular region or city, or pursue entrepreneurial ventures in the tourism industry and could e.g. start your own tour company, develop a new tourism-related product or service, or create a new type of travel experience for customers.
International graduates can take advantage of Germany's job-seeking visa to remain in the country for up to 18 months after graduation and secure employment before applying for a long-term work permit.