EMBA in
Executive MBA – Global
Henley Business School Finland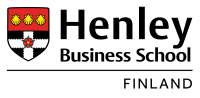 Scholarships
Explore scholarship opportunities to help fund your studies
Introduction
Practical. Global. Master's degree
Today's globally connected business world calls for a wider perspective, new skills and different ways of thinking. The Henley Executive MBA (EMBA) – Global is designed to develop outstanding business leaders ready to take on the challenges and opportunities of operating in today's complex and fast-moving global economy. It develops leaders who are strong, responsible and adaptable.
By connecting your learning to current global and relevant organisational issues, the benefits of Henley's global EMBA can be clearly measured, offering a substantial ROI to you personally and, more broadly, to your company.
The Henley EMBA – Global is structured to allow you to continue working full-time and study your MBA part-time. It is ideal if you are unable to take significant time out of the workplace to study and want greater flexibility over how, when and where you achieve your MBA degree. Over the 21 months of the programme, you will study and share experiences with like-minded professionals from a wide variety of managerial backgrounds and business industries.
The Henley EMBA – Global is currently the only triple-accredited EMBA programme in Finland that offers a university-level master's degree. Therefore, the Henley EMBA is exempted from VAT in accordance with sections 39 and 40 of the Finnish VAT Act.
Embark on the Henley EMBA – Global for an enriching experience that will connect you to global business and a worldwide network. You'll find it one of the most worthwhile investments in yourself that you can make.
The global Henley EMBA is triple-accredited by AMBA, EQUIS and AACSB, and among the most renowned MBAs in the world. According to the latest rankings, Henley Business School is the highest-ranked provider of EMBA programmes in Finland.
At a Glance
Start dates: May and October
Attendance: Part-time
Duration: 21 or 27 months
Workshops: 54 days
Workshop locations: Mostly in Helsinki, selected workshops in Denmark, Germany and the UK
Study visits: South Africa and the US, optional study visits to Chile or China
Assignments: 11 practical assignments + final research project
e-Resources: e-learning + online databases
ECTS: 90
Language: English
Faculty: UK + International
Tutors: Subject area professors + Academic Tutor support
Fee (Finland): €45,000 (VAT 0%)
Degree Level: Master
Executive MBA programme overview
At Henley we do more than teach about management and leadership; we educate for management in action.
The Henley Executive MBA (EMBA) – Global is a part-time master's degree programme providing a truly international experience, with a global focus on the syllabus and research, modules delivered across the Henley international campuses, enriching study trips and a multinational cohort was drawn from a variety of sectors and industries.
The Henley EMBA – Global consists of three key stages (90 ECTS) with an optional award structure on successful completion of each stage:
Stage 1: Fundamental Business Foundations (Certificate)
You will learn about the basic business aspects of managing an organisation, such as managing people, operations and finance. This stage is about developing a strong foundation across a range of business functions.
Stage 2: Strategy & Context – Managing Stakeholders (Diploma)
In this stage, you will gain a greater knowledge of stakeholder management and the context around the business choices needed to form a robust strategy.
Stage 3: Taking Leadership to a Higher Level (Master's degree)
You will examine the complexities of change in organisations and how to influence and lead a company through them.
Personal development as well as career, leadership and professional development flow through all stages of the Henley EMBA allowing an integrated process towards personal and professional growth.
During your studies, you will write 11 practical assignments applying the knowledge and skills developed from the programme. The assignments are based on current relevant issues, showcasing your capabilities and creating a valuable contribution to your organisation.
The Henley EMBA – Global is arranged around 14 core study modules that deliver a comprehensive and wide-ranging framework for your studies. In addition, the programme includes a number of elective modules that allow you to specialise and a research-based project.
Executive MBA learning experience
The programme combines the theoretical and real-world knowledge of our academics. It provides practical applied learning with the aim of bringing business to life, ensuring a rigorous and rounded learning experience.
Our approach to learning involves a high level of face-to-face interaction with academics and peers, individual contribution, group collaboration as well as personal development, leadership and professional development, and coaching.
We understand in your career, you may have already 'been there, done that.' This supports our belief that the most meaningful insights come from learning by doing. We organise our teaching around real-world dilemmas and business choices.
Those who work while studying for their Henley Executive MBA (EMBA) – Global are able to add impressive work to their portfolios while giving back significant value to their employers. The knowledge and skills you develop from our highly practical programme can be applied immediately in the workplace. Assessed assignments can be based on current issues, creating a valuable contribution to your organisation.
The Henley EMBA – Global provides tangible, significant and enduring skills, knowledge and connections.
Collaboration
Henley puts the emphasis on collaboration rather than competition. Henley's global EMBA is highly participative – we value both individual contributions and team-based learning. Programme members come from a range of different sectors, with diverse skills and cultural orientations, which inevitably creates challenges for teams along the way.
Personal development
At Henley, we recognise that one of your key objectives is to develop yourself as an individual. We work with your strengths to develop and hone management skills and prepare for the challenges of senior leadership in a global market. We see personal development as the backbone of our programme, not only as a module to be studied separately. Therefore, there is also a continuous element of personal development to support you through your journey.
Career, leadership and professional development
The Henley EMBA – Global provides plenty of opportunities for career, leadership and professional development. As well as IQ, great leaders require emotional, cultural and political intelligence – they also need the skills to enable transformative change by inspiring others to operate at their best and to win the hearts and minds of their employees and clients. We want our graduates to be masters of their own destiny, take career ownership, and have the confidence to lead in a way in which is authentic to them.
Coaching
Coaching will play a significant role in your journey to become a better leader. A pool of internationally certified executive coaches will support you through a series of individual coaching sessions in your personal and leadership development and help you to reach your full potential. During these sessions, you will learn to strategise improvement and take a structured approach to personal and career development, gaining the maximum personal learning from every experience.
Academic Tutors
During your studies, you will be supported by our Academic Tutors. They work closely with you to support you in every aspect of your learning and personal development efforts and help you progress through the programme.
Executive MBA benefits
The Henley Executive MBA (EMBA) – Global is an enriching experience that will connect you to global business and a worldwide network. You'll find it one of the most worthwhile investments in yourself that you can make.
The Henley Executive MBA (EMBA) – Global is designed to develop outstanding business leaders, who are strong, responsible, adaptable and able to identify the different situational perspectives to take appropriate action.
Henley-educated business leaders also appreciate that business is complex – there is no one-size-fits-all response. They become confident working with complexity, and they remain calm and assured under pressure.
Our programme provides multiple benefits, to you and your company:
University-level master's degree from an internationally recognised business school with triple-accredited status.
Life-changing experience due to strong focus on both personal leadership and management capabilities.
Highly international experience, including study content, teaching faculty and students.
Truly rewarding learning journey with other experienced managers.
Highly practical programme, enabling you to apply the developed knowledge and skills immediately in the workplace.
Relevant assignments, showcasing your capabilities and creating a valuable contribution to your organisation from day one of your studies.
Online access to tens of thousands of academic and industry study resources supporting your business and studies.
Improved English fluency (academic and business).
Substitute workshops in other overseas offices.
Study breaks allowed if other commitments in life change.
Access to a worldwide alumni network with more than 75,000 people in over 170 countries from day one of your studies.
EMBA – Global tuition fees
The tuition fee is:
Stage 1: 16,000€
Stage 2: 16,000€
Stage 3: 13,000€
45,000€ (VAT 0%)1, including workshop tuition, study materials and online services.
One of the best ways to learn more about Henley's global Executive MBA (EMBA) programme is by joining our information meetings.
Flexible payment options
Full programme fee
Stage fee
Stage fee in two instalments
Company funding
We work with you to help you identify how the Henley EMBA can deliver benefits to your employer right from the start of your studies. We can also help you prepare a detailed business case with which you can approach your employer to request their support, both in terms of finance and time.
About accommodation and travelling
Accommodation is included in:
Scheduled workshops of the intake abroad
Scheduled Global Immersion Studies of the intake abroad, and
Face-to-face elective modules in Henley, UK
Travel costs are excluded. The cost for the optional International Study Visit elective module is not included within the above fee.
1VAT 0%, Sections 39 and 40 of the Finnish VAT Act, VAT-exempt education service.
Executive MBA – Global application
The Henley EMBA – Global is an intense and rewarding experience. It's challenging, stimulating and relevant. Many of our students say it's life-changing. If you want to develop and shape your future, we will take you on that journey.
Entry requirements
To join the programme you need:
Three years of relevant experience in a managerial or senior specialist position
Bachelor or master's degree, or equivalent professional or international qualification*
Evidence of competence in English, if English is not your native language
Application process
Start your application process by contacting us to receive further information about the Henley Executive MBA (EMBA) – Global programme and to discuss your career development plans.
Your application package must include:
A completed application form
Up-to-date CV
Certified copies of degree certificates
Two professional references
Evidence of competence in English**
A personal meeting is a mandatory requirement for all applications.
The Henley EMBA – Global programme starts twice a year, in March and October. We are happy to assist you through the application process.
* We do welcome applications from candidates with exceptional management experience who may not meet all the formal criteria for admission (no degree). If you have a minimum of five years' experience at a senior or strategic level, we would be happy to consider an application. Our Admission Panel reviews all non-standard applications for suitability.
** Candidates whose first language is not English will be required to meet one of the following conditions: Take an English language test, provide an English proficiency at work form or undergo a face-to-face interview in English with an authorised staff from Henley Business School.
EMBA-experiences from our graduates
Are you wondering how it really is to study for the Henley Executive MBA (EMBA) – Global? Do you want some real-life examples of people who actually have gone through the programme from A to Z?
Anssi, Heikki and Marika tell you their own MBA stories, sharing both the joy but also the challenges of doing the Henley EMBA.