MBA in
MBA in International Industrial Management
Esslingen University of Applied Sciences
Curriculum
Course modules
Semester 1: Finance, Information Technology, Marketing and Strategy, Methods and Tools, Operations Management, Organisational Behavior
Semester 2: Business Planning, Finance, International Management, Methods and Tools, Organisational Behavior
Semester 3: Methods and Tools, Corporate Project, Master's Thesis and Thesis Colloquium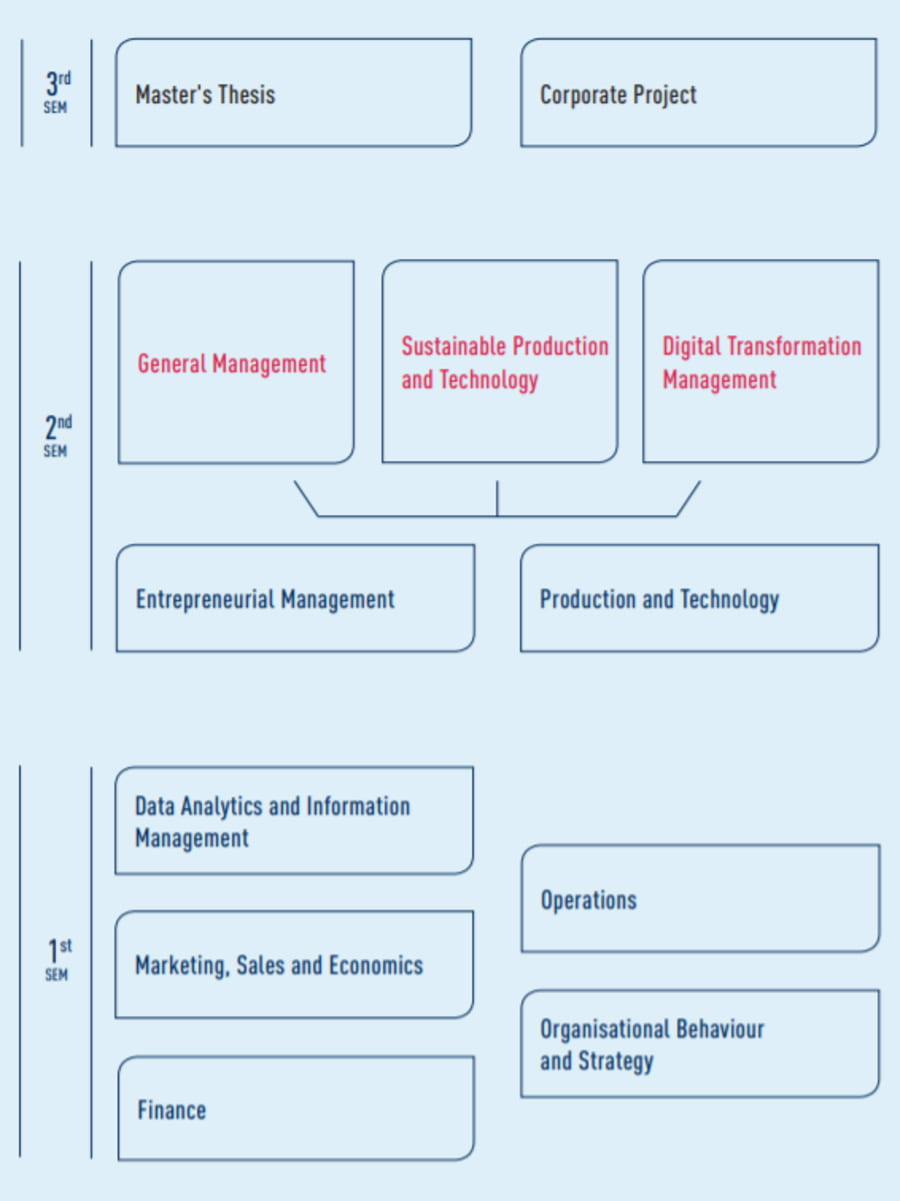 Details
Credits: 30 credits per semester: 90 credits total
Place of study: Esslingen Hilltop campus
Degree: Master of Business Administration (MBA)
Program Outcome
Graduates of the Esslingen MBA
Have an in-depth understanding of the functional fields of business and interrelationships in complex organizations;
Are able to think and act in global dimensions;
Have experience of applied quantitative and behavioral tools of business analysis and decision-making;
They are able to build bridges between companies, countries, and cultures.
Studying The Esslingen MBA is more than just an education. It is an experience that widens our participants' horizons.
Career Opportunities
Management Careers in an International Network
"The Esslingen MBA is an optimal complement to my academic background as a mechanical engineer". Bryan Morehouse, MBA 2015, Customer Solution Business Development Specialist
Today's business managers need a whole new range of skills to lead an enterprise in the global marketplace. They need to combine a strong industrial knowledge with a passion for management; to build bridges between countries and cultures. The Esslingen MBA is dedicated to educating highly skilled business professionals and preparing them for a management career in an international environment.
As an Esslingen MBA graduate, you will work at the interface between technology and management, or in a management position requiring goal-oriented problem-solving.
Esslingen MBA graduates are particularly sought after by German companies in the field of automotive and mechanical engineering, as well as consulting.
Hands-on learning activities, such as company visits and real examples are carried out under close guidance; students have the opportunity to study German and to explore the German mentality and culture by participating in excursions, cultural lectures, and social events. Our programs are strongly sponsored by the German government.
Students receive an MBA valued at over €30,000 for less than €4,000!
Engineering and Management: Focusing on the Industry
Esslingen University is one of the leading universities in Germany for applied sciences, with core areas in engineering and management as well as applied research. These strengths form the Esslingen MBA in International Industrial Management, which focuses on the functional areas of business (operations, marketing, and finance) in the manufacturing sector and the encompassing services.
Alumni Network Around the Globe
"The alumni network and the close link with the companies in the Neckar Valley provided many valuable insights into the newest developments". Fiona van Petegem, MBA 2016 Project Engineer
Networking is essential for success in today's global business world. Over 90% of Esslingen MBA students are international, with representatives from approximately 12 different nations each year: the resulting intercultural network is a particular highlight of the Esslingen MBA.