Part time MBA in
Mba general management
Fachhochschule der Wirtschaft FHDW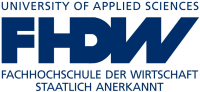 Scholarships
Explore scholarship opportunities to help fund your studies
Introduction
Part-time studies for Master of Business Administration
The part-time program in General Management leads to the degree Master of Business Administration (MBA). It is accredited by FIBAA (Foundation for International Business Administration Accreditation). The MBA is international in its content, and provides more than 30 percent of the total material in English.
The contents are taught by the faculty from the perspective of a general manager. This must recognize the strategic challenges that put them into goals and visions and inspire your employees for this purpose. The MBA program imparts the it necessary expertise (Business Skills) in the areas of corporate management, human resources management and business administration and law, but presents all the recognition and mastery of contextual knowledge for the company's management ready (Management Development, Business Management).
The MBA degree FHDW linked established MBA elements with important topics such as Personal Development, Leadership and Globalization and intensive feedback. Through modern learning methods such as action learning and a business simulation will set new standards. In each case, a week-long trip to Shanghai in China as well as to Hyderabad in India allow you to experience first-hand and globalization on site.
Duration
18 months
target group
The MBA degree in General Management prepares students with work experience to future challenges in top management before at international level. Major goal is the attainment of competence that can be implemented directly in the business environment.
The MBA program is aimed primarily at employees of companies that already have management experience or will shortly have, and whose goal is to prepare for further challenges in the area of ​​general management.
Tuition and Fees
For your MBA degree you invest per month € 850 over the entire term of 18 months. At the end of an examination fee of 1,800 € will be charged. The monthly fee is already included a field trip (either to China or to India). Arrival and departure costs are incurred separately.
For the second excursion € 1,200 will be charged. This includes also accommodation, meals as well as the organization benefits included, not the arrival and departure costs.
In order to invest, including a compulsory excursion total of € 17,100 in your MBA. Take part in two field trips, there are a total of € 18,300.