MBA in
MBA - International Business Management (Blended Learning)
Centria University of Applied Sciences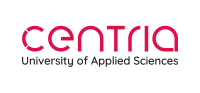 Introduction
The MBA studies are conducted in English as Blended Learning studies. The online lectures take place usually on Saturdays. You are eligible to apply for the Blended Learning MBA programme if you have a higher education degree completed in one of the member countries of the European Union or The European Economic Area and you have at least two years of work experience.
During your studies, you will deepen your knowledge and get new perspectives in international business management. You will study human resource management and leadership, international marketing and brand management – to name a few subjects. The studies also include business ethics and sustainable development studies. You will dive deep into international business management from many aspects. The studies also include optional studies that you can choose based on your interests. An essential part of the degree is the Master's thesis project. In addition, if you have previous business studies at the Master's level, it is possible to apply for credit transfers and integrate that knowledge and skills into your MBA degree to speed up your studies. We do our best to offer high-quality education and flexible arrangements to guarantee good study progress.
Our Blended Learning MBA students come from both Finland and many other countries. Some assignments are done in groups, which is an excellent way to network with fellow MBA students. The subjects of the group activities are usually related to real business life. The study environment is international, and you will not just learn about international business, but you will also learn about different cultures and habits while practicing your language and communication skills.
We constantly develop the degree programme with companies and other cooperative partners. We aim to build the expertise of our students so that both the students and the working life can benefit from it. In the annual national survey, our graduating Master's level students have ranked Centria as the best university of applied sciences in Finland for two years in a row now.
Ideal Students
Eligibility criteria
For this specific direct application round, the following education gives applicants eligibility to apply for the Master's programme:
a higher education degree completed in one of the universities in Finland
a higher education degree completed in one of the universities of applied sciences in Finland
a higher education degree completed in one of the EU/EEA-area countries
Furthermore, applicants are obliged to have at least two years of relevant work experience, gained after obtaining a higher education degree (applicants can accumulate work experience until the end of July 2022).
Applicants are also required to be in good command of the English language since the Master's studies are conducted in English.
Admission criteria
Students are selected on the basis of points received from the entrance examination. The entrance exam is in form of an online test. The instructions, detailed content and the schedule of the online entrance exam are going to be sent to eligible applicants by email. When filling the application form, applicants are advised to double-check if the given email address is functional. Functional email address is necessary in order to be able to contact applicants with essential guidelines.
The content of the entrance examination is based on given reading material and connected assignments. Applicants' English language skills are going to be tested as well. A functional computer with a stable internet connection is required.
Curriculum
Content of studies
Core studies 15 ECTS
Research, Development and Innovation Processes and Expert Communication
Research and Development Methods and Tools
Strategic Management and Development
Profiling studies 30 ECTS
Human Resource Management and Leadership
Business Ethics and Sustainable Development
Strategic Opportunities in International Business
International Marketing and Brand Management
Organizational Behaviour and Development
Management Accounting and Decision Making
Optional studies 15 ECTS
You can choose optional studies either from the Centria Master School supply or from Campusonline.fi portal that offers Master's-level courses also in English. These courses are optional and you can choose subjects you are interested in. Also exchange studies and studies based on credit transfers and the recognition of prior learning can be included here (or they can also replace some compulsory studies, if they meet the learning requirements of the course at the Master's level).
Master's thesis 30 ECTS
Internationalisation
The study environment at Centria is very international, and this will give you many possibilities to practice and improve your language skills and learn about new cultures and habits. We also provide you with the opportunity to go on a Master's level exchange to one of our partner universities abroad.
Thesis
The thesis is a research and development project, and it is an essential part of the studies. The thesis project aims to develop your ability to find new research information and implement it in your thesis work. The thesis project helps you to gain the expertise that you need in challenging expert and managerial positions. The thesis project is a combination of theory and practice.
The scope of the thesis is 30 ECTS.
The MBA Programme in International Business Management provides a wide variety of potential thesis topics depending on your personal interests. Examples of thesis topics include, for example, development of management systems or leadership practices, organizational development, international business opportunity mapping, advanced market surveys and marketing research, internationalization plans for businesses, advanced business planning and business model development, development of e-business solutions, etc.
Career Opportunities
After you have completed the MBA programme, you have grown into business management professional. You are capable of independent decision-making, working in management or demanding expert tasks in businesses. You have learned tools and methods. You can operate in international business or as an independent entrepreneur in the global business environment.
According to a study commissioned by the Professionals of Business and Technology (Tradenomiliitto TRAL), a higher education degree completed in a university of applied sciences has a positive impact on career development and salary. More than 80% of the respondents feel that the degree has significantly impacted organisational status and the content of their work assignments.
A Master's degree from a university of applied sciences delivers the same qualifications to positions and vacancies in the public sector as a university Master's degree.