Program Description
Make Your Dreams a Reality. Start Here.
If you have big career dreams, we will help you achieve them. An Executive MBA from Coles College of Business provides the strategic planning, leadership, and management expertise to take your career to the next level. You will experience cutting-edge global teaming, program-long executive coaching and a customized curriculum designed for ambitious executives. When you're ready to be a commanding business leader you are ready for Coles.
EMBA Highlights
Proven ROI | Over 94% of students report that their Coles EMBA increased their value to their organization, and 88% reported an increase in their ability to be promoted.
Optimal Schedule | Our accelerated EMBA program is designed for busy executives with a convenient one weekend a month (Saturday/Sunday) format.
Top Notch Program | Ranked by Businessweek and CEO Magazine as one of the top 25 programs in the nation.
Leadership at Work | Through interactions with faculty and a personal executive coach, you will hone your leadership style and develop new skills with actionable plans. Enhance your strategic leadership capabilities by leading global and domestic teams throughout the program.
Globally Focused | Grab your passport and work with a global and domestic team throughout the program on real-time projects, culminating in a 9-day business consulting residency in South America.
Built for Business | Our customized curriculum is taught from a CEO's point of view so you can learn multi-dimensional decision-making and its impact on a competitive and ever-changing landscape. Immediately applicable to your career.
Dedicated Faculty | Not only leaders in academic research and theory, Coles EMBA faculty are sought out by the business community for consulting and known by our students and alumni for their personal attention and accessibility.
Attend an information session to learn more about the Coles difference and speak to faculty, staff and students.
Coles Executive MBA
The Coles Executive MBA (EMBA) is designed for working professionals with a strong desire to advance their careers. In only 19 months, approximately one weekend a month, Coles EMBA provides the strategic business and leadership skills needed to achieve personal and professional success. Coles' cutting-edge global teaming experience, program-long executive coaching, and customized integrated curriculum are just a few of the differences that lead to its internationally ranked and accredited status. Be a commanding business leader with a Coles Executive MBA.
Requirements for Admission to Coles Executive MBA
Admission to the Coles Executive MBA Program is based on a competitive process which includes consideration of the following:
Completion of an interview with the appropriate Coles EMBA Recruitment Director.
Completed Executive MBA application.
Baccalaureate degree from an institution accredited in a manner accepted by Kennesaw State University (See "Admission Criteria for Applicants Without an Undergraduate Degree" below).
Official transcripts.
A minimum of seven (7) years of relevant post-graduate professional experience as evidenced by a current resume.
Two letters of recommendation speaking to leadership, teaming, and/or other professional qualifications.
*International applicants have additional requirements; see Graduate Admissions section of this catalog.
Program Fees
The cost for the 19-month program is $58,000.00. This fee includes a nonrefundable deposit of $500 which is due upon acceptance to the program. The remaining $56,000 is prorated over the entire program. Contact the EMBA Admissions Office for complete details and all items included in the tuition amount.
Transfer Credit
The Coles Executive MBA is a cohort-based, lock-step curriculum program. Students enrolled in the Coles Executive MBA program will not be given program credit for courses taken at other institutions.
Grades in Graduate Courses
Expectations for satisfactory graduate level student performance are detailed in the Academic Policies section of this catalog.
Petition to Graduate
Each EMBA student must petition to graduate at least one semester prior to completion of program requirements. Petitions to graduate will be processed and sent to each student by the EMBA programs office for student completion.
Admission Criteria for Non-Degree Student
The Coles EMBA Admissions Office at Kennesaw State University will consider a limited number of applications from individuals without an undergraduate degree based on the following (in addition to the other requirements outlined above):
Ten years of significant business experience.
An acceptable GMAT score.
A minimum of 60 semester hours of undergraduate coursework from an accredited institution.
A panel interview with three faculty members which results in a favorable recommendation by all three.
Final review and approval by the Vice President for Academic Affairs.
Students admitted to the EMBA program without an undergraduate degree shall number no more than 5% of the final class headcount.
Program of Study
The Executive Master of Business Administration program in Kennesaw is made up of core courses. All students must complete the 48 credit hours of prescribed core EMBA courses that are offered as a part of the cohort program.
Core Requirements (48 Credit Hours)
GBA 7211 - Business Acumen Foundations
GBA 7212 - Principles of Leadership
GBA 7221 - Business Strategy & Analysis for Executive Decision Making
GBA 7222 - The Business of Teaming and Coaching
GBA 7231 - The Enterprise Value Chain
GBA 7232 - Managing Human Capital
GBA 7233 - Personal and Professional Development Planning
GBA 7241 - Experiencing Business in a Global Environment
GBA 7242 - International Leadership and Collaboration
GBA 7251 - Application of Business Acumen and Leadership
GBA 7253 - Managing Your Career
Program Total (48 Credit Hours)
Notes
Refer to the KSU Graduate College for Grade, GPA and program length requirements.
APPLICATION AND DOCUMENT DEADLINES
June 30 for Fall Semester
Last updated May 2018
About the School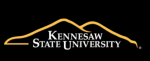 Kennesaw State University is a comprehensive university recognized for its entrepreneurial spirit, global engagement and sense of community. As Georgia's third-largest university and one of the fifty ... Read More
Kennesaw State University is a comprehensive university recognized for its entrepreneurial spirit, global engagement and sense of community. As Georgia's third-largest university and one of the fifty largest public universities in the country, Kennesaw State offers more than 100 undergraduate and graduate degrees, including an increasing number of doctoral programs.
Read less